.

Proposed land based Liquid Natural Gas Terminals are well recognized as a major danger and threat to local and distant populations, as an accident, whether natural disaster or terrorism may directly lead to a major explosion rivaling that of a nuclear devise. Having a mobile off-shore ocean-based LNG terminal is widely recognized to provide far greater safety than having land-based LNG facilities, near populations and capital structures.

Utilizing the Hydro Lance HARTH technology would bring even greater safety and efficiency to such projects as the Hydro Lance ships are designed to be nearly immune to violent oceans and winds, and would provide quick-response escape scenarios. By converting the LNG directly to Electrical Utility Power in-situ at sea, then having high-risk land based LNG receiving stations are completely avoided.

Electricity is delivered to the land-based electrical grid by wire or ocean-floor cable, thus completely avoiding the dangers of explosions near populated communities. Cost efficiencies are significantly improved by the direct HL-ship electricity conversion, reduced handling and eliminating the costs of shore-based facilities, slow off-loads, and the costs of extensive security measures required for any land-based LNG facility. The Hydro Lance new alternative becomes a safe and cost efficient means for the delivery of this more green energy.

Large and Fast LNG Transport Ships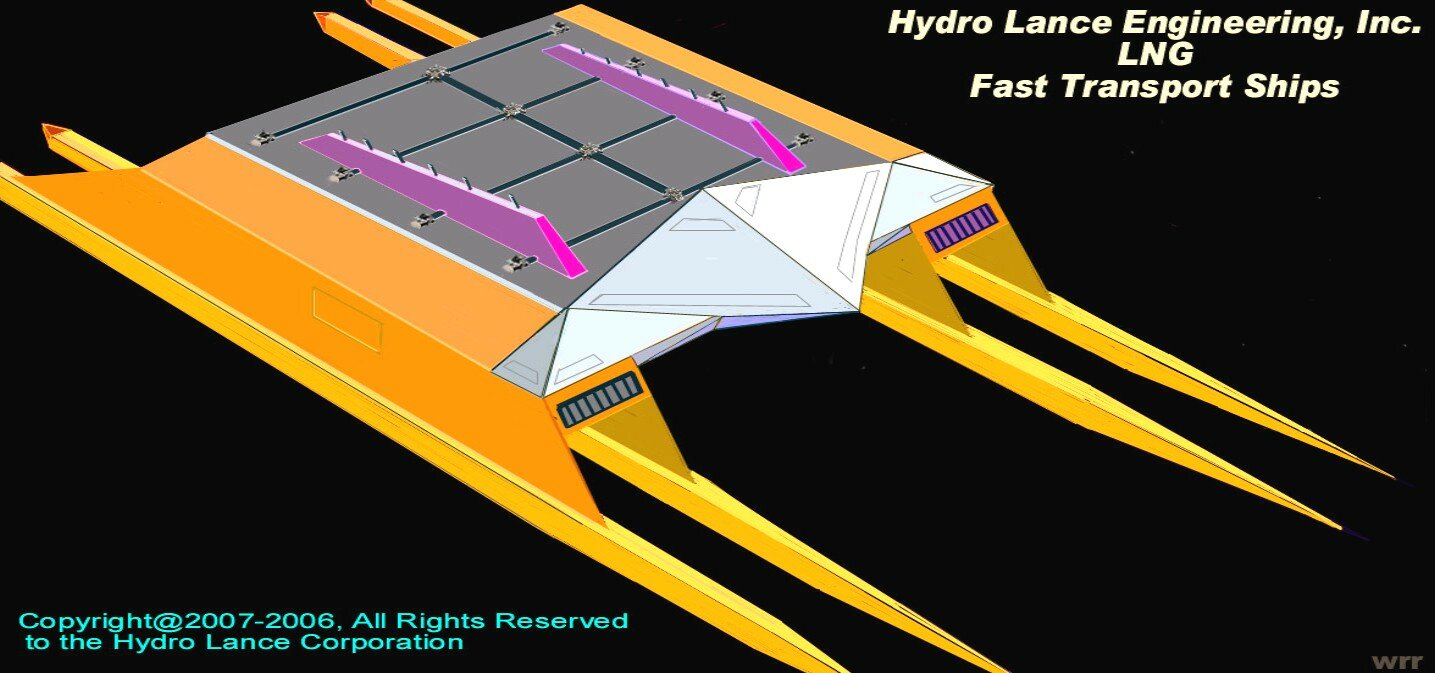 Copyright 2013-2003 to Hydro Lance Corporation, All Rights Reserved
Hydro Lance Ships have extremely low drag and ultra-ocean stability. There is no hog or sag and resulting fatigue. Cruising speeds are designed routine for 60-80 Knots through elevated Beaufort scales. Clients may optionally specify speeds at 100 Knots or above. The vessel's low drag affords up to seven times the fuel economy compared with more conventional ships on the oceans today. There is now a choice.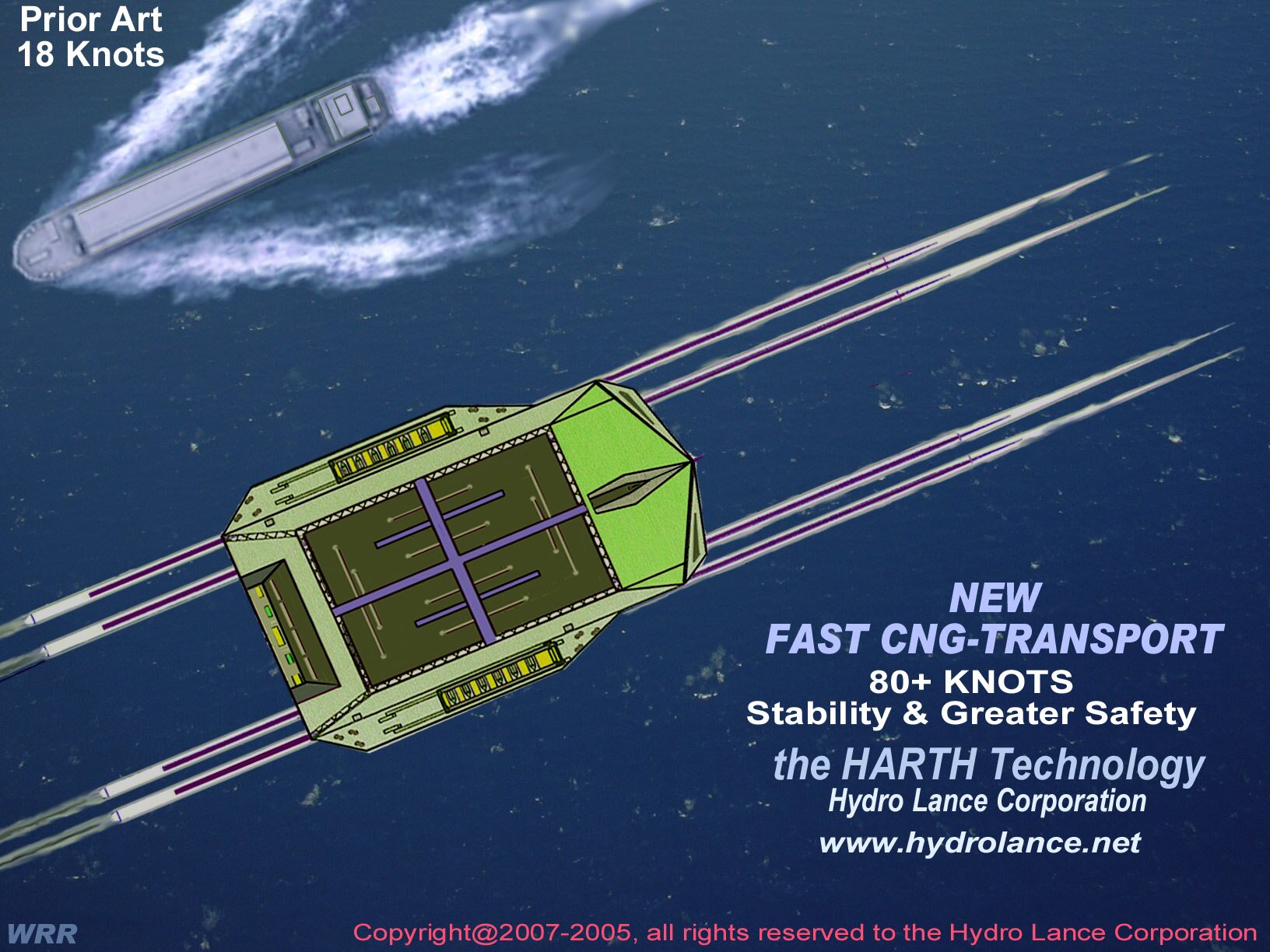 Above: CNG HARTH Fast Transport Ship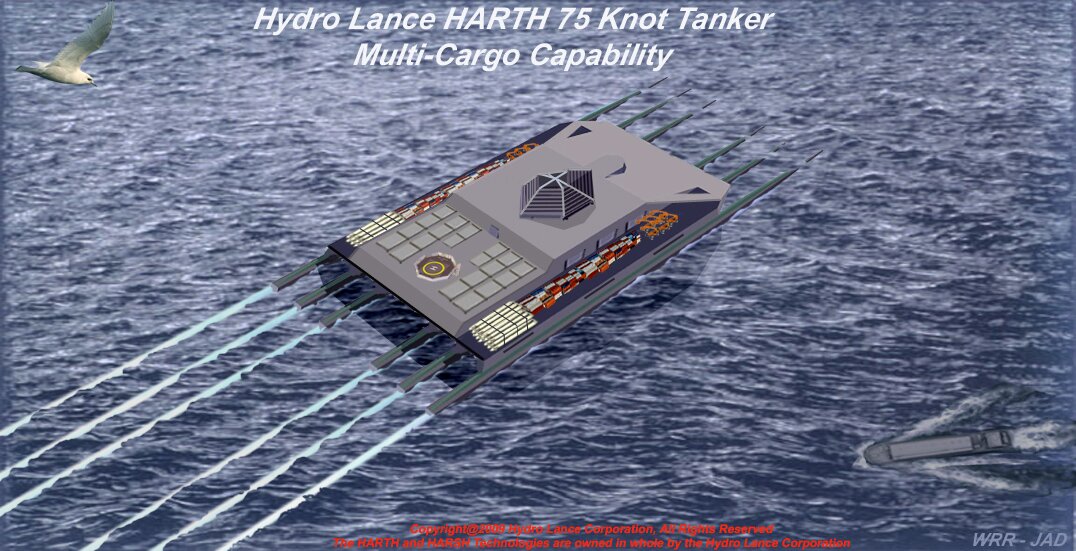 Above: Oil Tanker HARTH Fast Transport Ship; 1M Barrels (US) & Multi-Cargo Capable, Containerized CNG
SMALLER CNG or LNG CONTAINERIZED HYDRO LANCE FAST-SHIP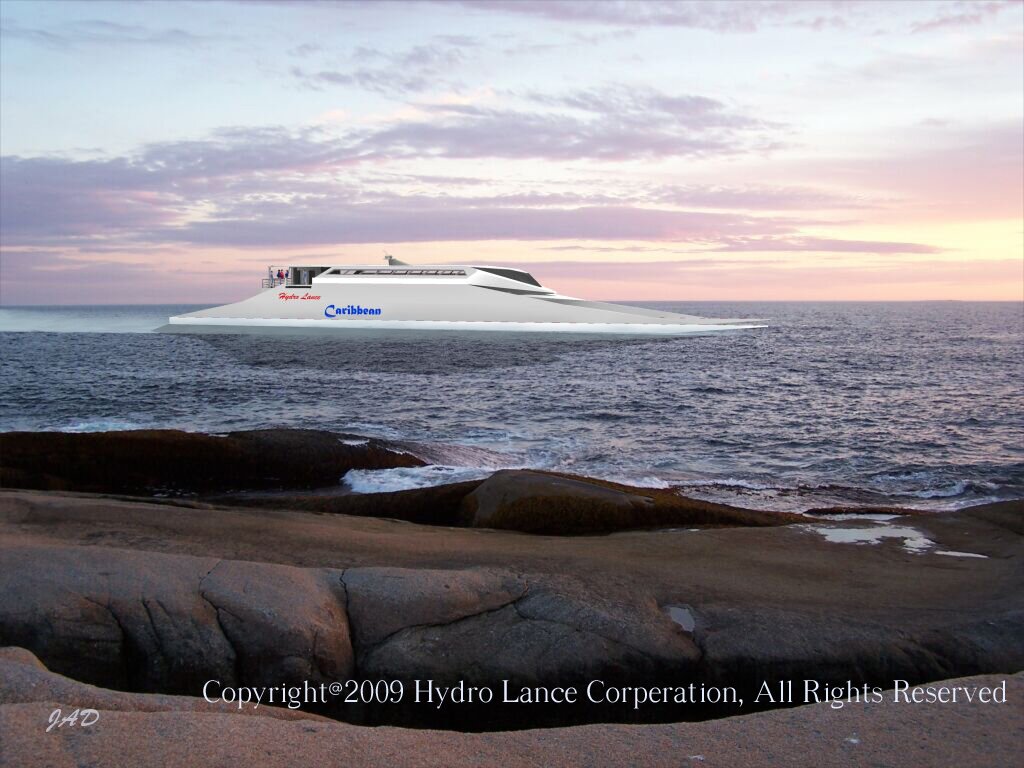 And So Much More ...
Above: HARTH RO-PAX SHIPS HARTH Crew Tenders and Fast Ferries
Above: New Ocean Based Cities - HARTH Wind Energy Production Ship and Transport Tender
For additional information, contact our staff at Hydro Lance Engineering, Inc. or the Hydro Lance Corporation. Further information and HARTH applications, mouse click any underlined phrase, images above, or any of the light bars below ...