-
SUPER-FAST OIL & FUEL TANKER
Greater Safety, Very Fast Ocean Transport
When Time is Money ...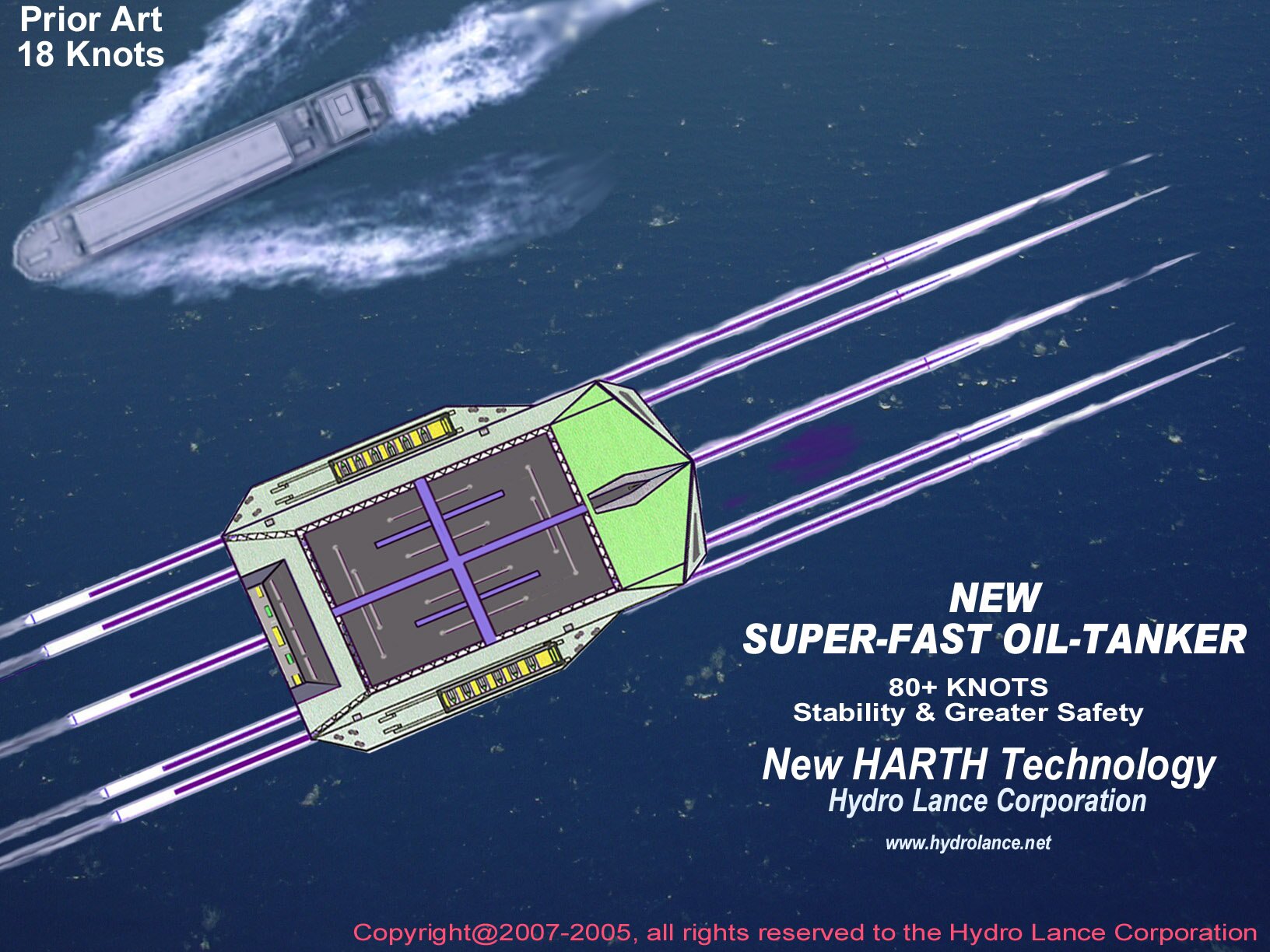 Shown Above: HARTH Super-Fast OIL-TANKER TRANSPORT SHIP vs. The Conventional
TRANSOCEANIC FAST OIL TANKER - BLUE WATER CLASS
FAR-FASTER BULK-FUEL TRANSPORT
SPEED
* 80 KNOTS MAINTAINED THROUGH ELEVATED SEA STATES
CAPACITY
* OIL or FUEL FAST TRANSPORT CAPACITY ...
Shown: 3,590,649 Gallons (US) or 85,491 Barrels of Oil (US)
Capacity modular - Increased with Vessel Design Length
LARGER CAPACITIES ...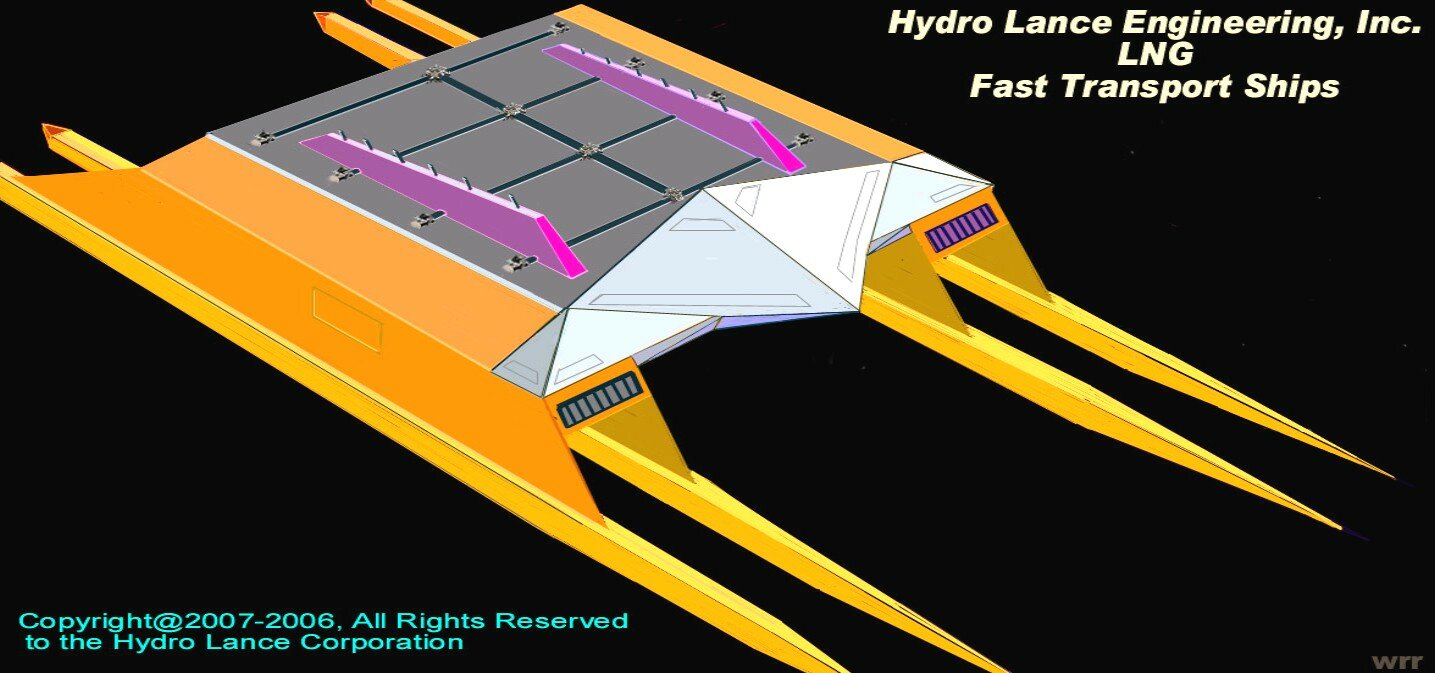 Shown Above: HARTH Super-Fast LNG Ship
SAFETY
* BLADDER MODULARIZED CONTAINED SUB-SETS ...
AVOIDS LOAD-SHIFT AND MAINTAINS SMALLER CONTAINMENT SECURITY
* OIL OR FUEL CARGO IS FAR ABOVE THE OCEAN SURFACE - SPILL SAFETY
* OIL CARGO IS NOT IN THE HULLS TO ELIMINATE OIL-SPILL MISHAPS
SHIP INTEGRITY MAINTAINED - EVEN WITH 25-30% OF ANY HULL DESTROYED
* FOAM BACK-FILLED HULLS & HOUSE SECTIONS = MISHAP COMPONENT FLOATATION
* FULLY AUTOMATED FIRE-SUPPRESSION SYSTEM
NO DECK-WASH
OTHER
* SHALLOW DRAFT EXTENDS THE REACH INTO SHALLOW-PORT MARKETS
* TRACTOR-TURN & REVERSE CAPABLE
* LATEST ELECTRONICS, BRIDGE & SPECIOUS CREW QUARTERS
* NO SEA-SICKNESS
HYDRO LANCE HARTH SHIPS MEANS ...
NEVER ANY PITCH, ROLL, HEAVE, YAW, SWAY, HOG or SAG
NO SEA-SICKNESS - EVEN THROUGH ELEVATED SEA-STATES
CRUISING SPEED: 80+ KNOTS; THROUGH ALL VESSEL- RATED SEA-STATES
SEVEN TIMES MORE FUEL EFFICIENT THAN CONVENTIONAL SHIPS
HEAVY-LIFT -- CLEAR-SPAN HOLD SPACE- ULTRA-STABILITY
SUPERIOR SEA-KEEPING / STATION KEEPING
LOWEST STRUCTURAL STRESS - NO HOG OR SAG
TRACTOR-TURN CAPABLE, 360O - REVERSE THRUST
HARTH SHIPS; DESIGNED FIRST FOR THE OCEAN - RATHER THAN A BOAT-SLIP
LIFE BECOMES BETTER ...