HYDRO LANCE CORPORATION
PRIOR ART:
GREAT WATER PLOWS OF THE SEA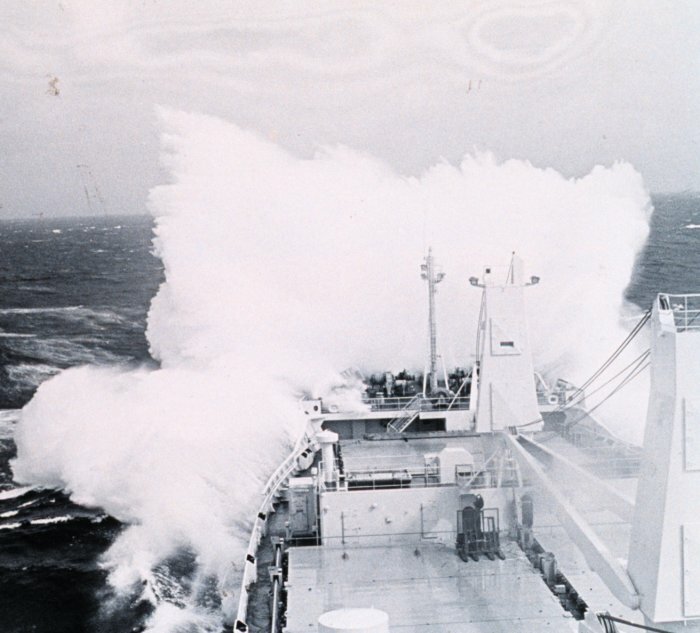 "THE OLD WAY, BUT NOT NECESSARILY THE BEST WAY".
Hours and months are invested by marine architectural designers to stream-line the basic ocean-going tub. But regardless of how the design is shapped, or how may suites have an ocean view, a pointed tub still follows the ocean contours, and a plow by any name is a plow , having a great amount of drag. Above is the real ocean world of high seas.
Pitching, heaving and rolling is the current default of marine design. The energy of prime power is lost to plowing water (drag). This all being said, many of these conventional ship designs are really beautiful to view, tied up in a safe and sheltered port.
Why invest money to create another ship destined to the repetition of the pictures above?
Perhaps it's tradition, or the marine community may be just 'comfortable' with what we all understand. Maritime and Naval Engineens really do understand how to build these rolling, heaving and pitching ships. Whatever the reason, the 'new' is here now, new ship decisions need to made, and there is now a choice.
Interested comments can be sent to the 'liaison link' at the bottom of the Home Page, for key person distribution and a kind response.
Hydro Lance Engineering, Inc.
Hydro Lance Corporation, Inc.
The New State-of-the-Art click here
Copyright 2002, the Hydro Lance Corporation, All Rights Reserved.