-
HARTH CNG FAST SHIPS
Compressed Natural Gas Stable Ocean Transport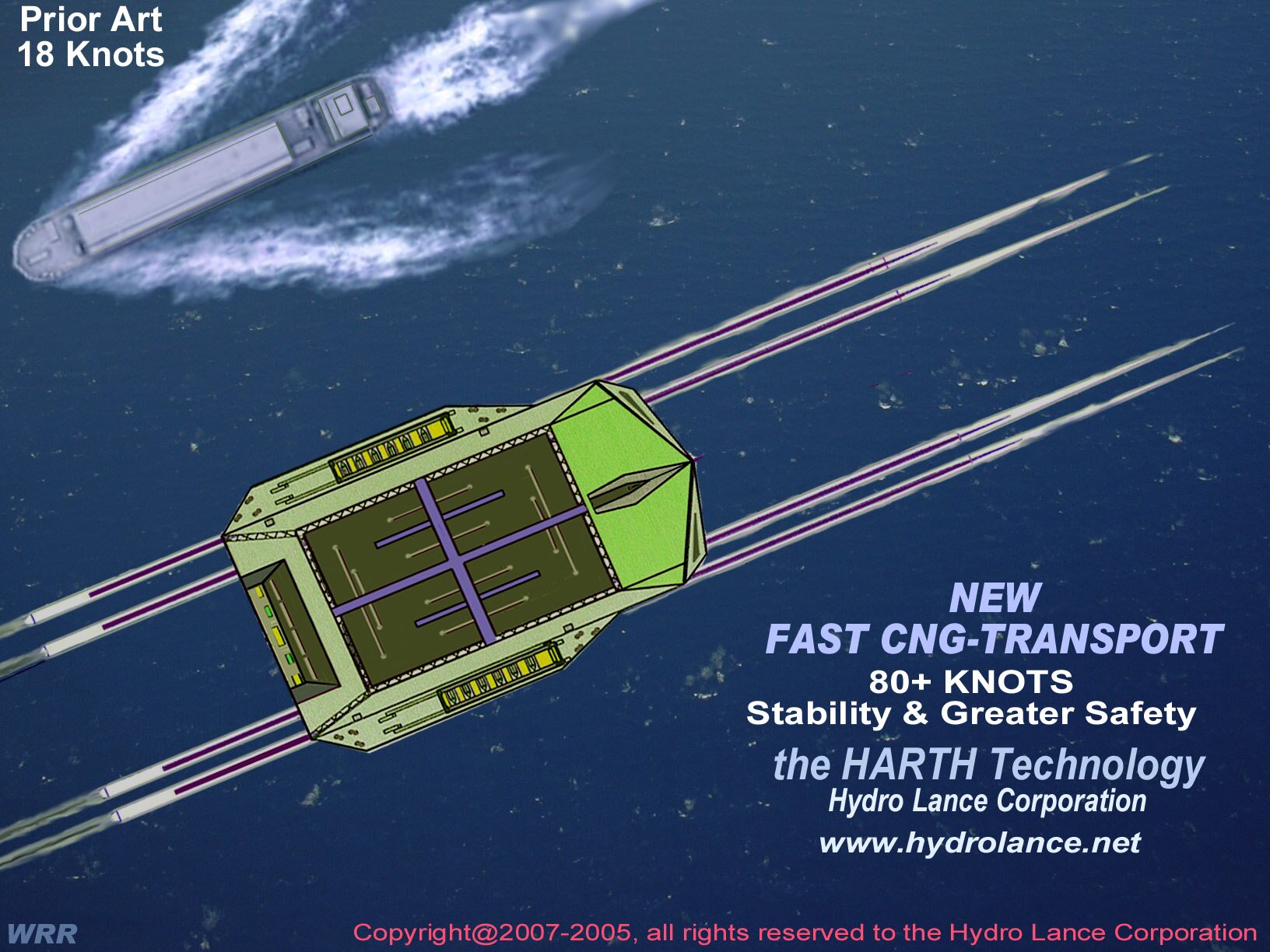 Above: TRANSOCEANIC FAST CNG SHIP; BLUE-WATER CLASS COMPARED WITH THE SLOW CONVENTIONAL
Featuring ...
>>
* Safer Transoceanic Transport - Fully Ventilated Hold
* SUPER-FAST CNG HARTH TRANSPORT
* SHIP BULK CARGO SPACE - 4,236,000ft3
* APPROXIMATE CNG CAPACITY: 400mmscf
* MODULARIZED AND VENTILATED CNG SPACE
* CNG MORE ECONOMIC THAN LNG FOR CLOSER MARKETS
* HARTH SHIPS EXTENDS THE REACH OF THOSE MARKETS
* CRUISING SPEED: 80 KNOTS - THROUGH ELEVATED SEA-STATES
* SHALLOW DRAFT > FEASIBLE FOR SMALLER PORTS AND COMMUNITIES
* NO BOW-WAKE - LOWEST WATER DISTURBANCES
* RE-GASIFICATION PLANT IS A NON-REQUIREMENT
* DECANT OR OFF-LOAD DIRECTLY TO PIPELINE OR HOLDING TANKS
* FAR GREATER SAFETY THAN LNG TRANSPORT & OFFLOAD
* GREATER CREW COMFORT - NO SEA-SICKNESS, EVER
* OBVIATES 25 YEAR CONTRACTS AS REQUIRED WITH LNG
HARTH FAST CNG Ship - up to 2 Bscf Capacity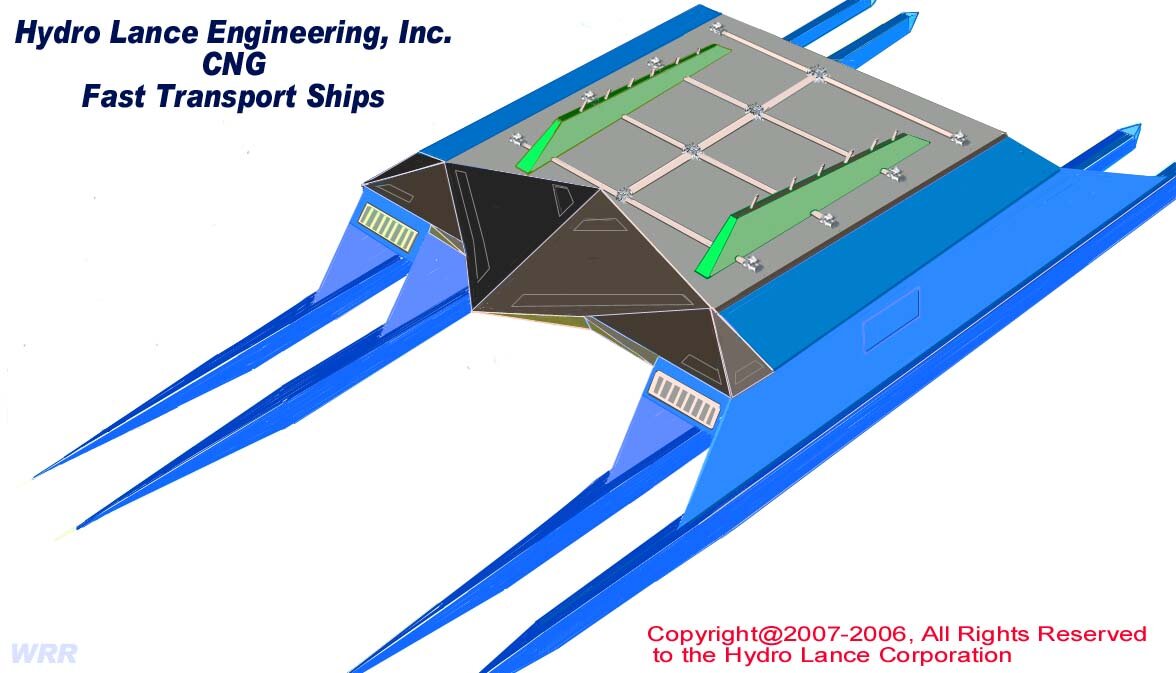 Above: Shown is a larger, expanded ship able to transport CNG at 60-75 Knots smoothly and fast through elevated sea-states. Wisdom suggests consideration may be given to having two or even three smaller such vessels with high-speed travel to the same or different markets, thus affording increased flexibility with markets changes, as compared to one very large dedicated CNG ship.
Smaller Panamex CNG Container Ship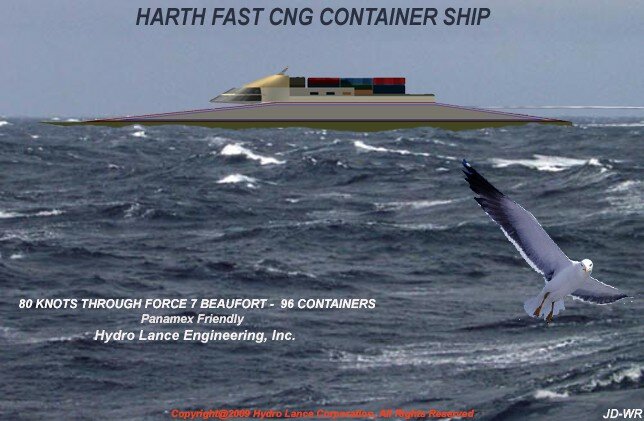 Above: Shown is a smaller HARTH CNG Container Ship designed for 80 Knots sustainable through a Force 7 maximum scale Beaufort
Hydro Lance Sea Train TM
World-Class Capacity, Speed, Turn-Around and Fuel Economies ...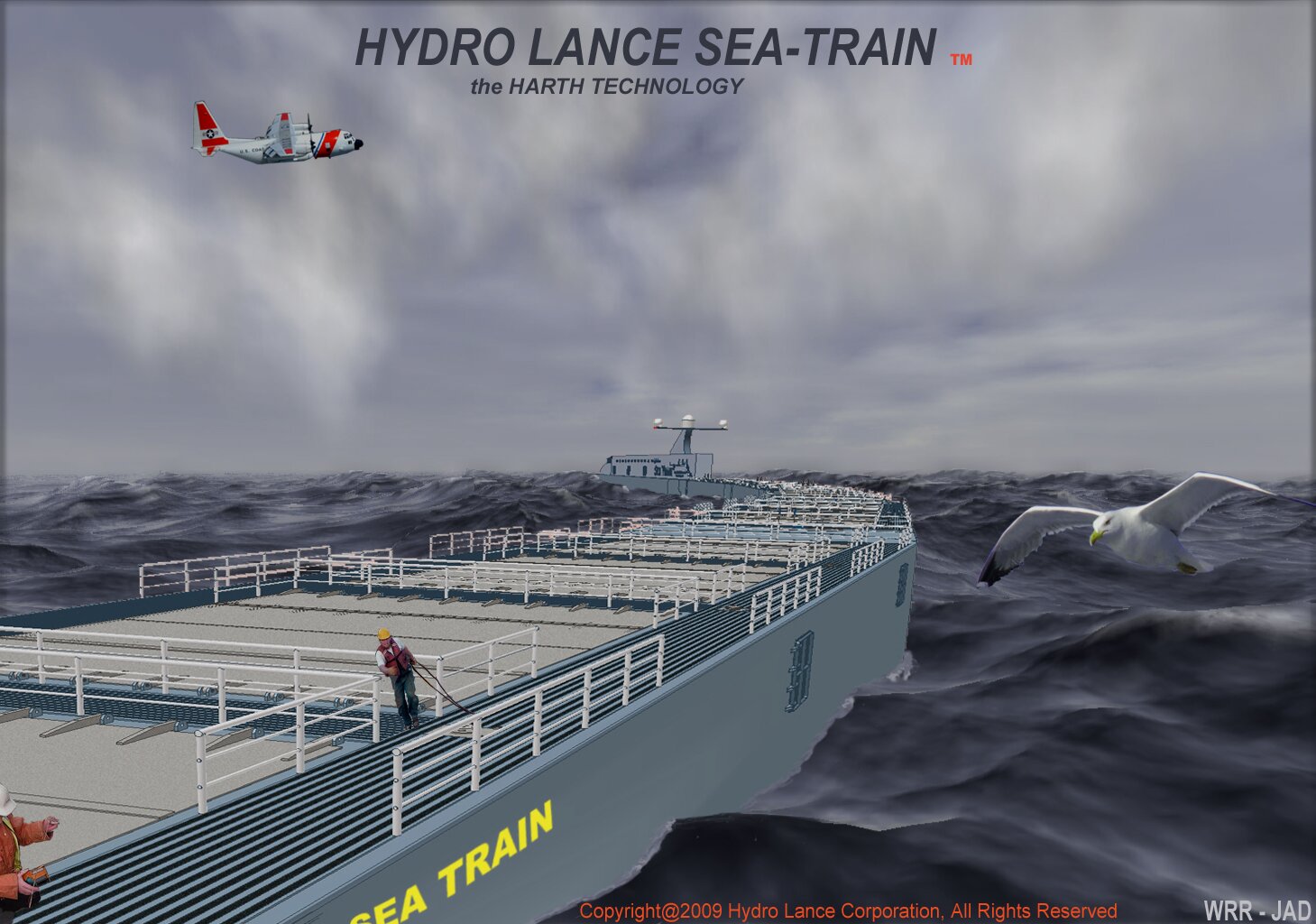 Above: Hydro Lance Sea-TrainTM based in the HARTH Technology is a trans-ocean surface transport system. Designed for 80 Knot speeds through all levels of the Beaufort Scale, this assembled system can efficiently transport up to 450,000 tons of oil, fuel, ore, 2.5 Bscf CNG, LNG, 650,000 Cubic Yards of cargo, equipment, bulk commodities, fuels (Approximately 3,000,000 US Barrels) or even passengers worldwide with ultra-stability and safety at high speeds on each transoceanic trip. Further program or technical information is available only with a properly executed Confidentiality Non-Circumvention Agreement in place with the Hydro Lance Corporation.
HYDRO LANCE HARTH SHIPS MEANS ...
NEVER ANY PITCH, ROLL, HEAVE, YAW OR SWAY
NO SEA-SICKNESS - EVEN THROUGH ELEVATED SEA-STATES
CRUISING SPEED: 50-80 KNOTS; THROUGH ALL VESSEL-RATED SEA-STATES
SEVEN TIMES MORE FUEL EFFICIENT THAN CONVENTIONAL SHIPS
HEAVY-LIFT -- HIGHER CAPACITY
SUPERIOR SEA-KEEPING / STATION KEEPING
LOWEST STRUCTURAL STRESS - NO HOG OR SAG
TRACTOR-TURN CAPABLE - And REVERSE
THE OLD WAY IS TOUGH AND SLOW (Image)
HARTH SHIPS; DESIGNED FIRST FOR THE OCEAN - RATHER THAN A PORT-SLIP
And So Very Much More ...
Above: SAFER OFF-SHORE LNG TERMINAL HARTH CONTAINER SHIP SERIES
LIFE IS BETTER ...
EARLY TEST VESSEL & INTRO-VIDEO
CNG; SHORE TO SHIP - GAS TODAY
HARTH LICENSE, MANUFACTURE, Purchase / Use OPTIONS
COPYRIGHT@2013-1999 Hydro Lance Corporation, All Right Reserved